Restaurant and Sushi Bar Currently Closed
Curbside Pickup Currently Unavailable 
Restaurant will be closed until January 21 for dining and takeout.  Check back January 21 for our latest menus and hours.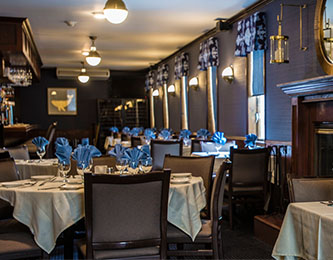 The Leeward Room – Casual "Family Friendly" Cuisine
Open year round, The Leeward Room has distinguished itself as being one of Long Beach Islands finest restaurants. Our experienced culinary team has created an extensive menu that offers the best of American cuisine. Premium cut steaks made to order, delicately pan seared wasabi encrusted scallops, and chicken breast decadently glazed in ginger are just a few of the amazing dishes offered. Our bar offers top shelf liquor and an award winning wine list to choose from. Attire: Business casual.
Special meal preparations for Thanksgiving Dinner, Christmas Dinner and New Years Eve.
Please note: Early Bird menu not available Saturdays or holidays.
Hours of Operation:
Dining resumed as of Jan 21st, 2021
Hours:
Thurs – Sun, 5-8pm
Indoor and Outdoor (weather permitting) seating is limited, reservations are suggested
Click here to make a reservation online
The Engleside Sushi Bar
The Engleside Sushi Bar, an extension of the Leeward Room, is a taste of the exotic. Expertly trained sushi chefs create a taste of eastern excellence using only the freshest ingredients bought daily at market. From traditional dishes to the innovative, The Engleside Sushi Bar never fails to exceed expectations.
Hours of Operation:
Dining resumed as of Jan 21st, 2021
Hours:
Thurs – Sun, 5-8pm
The Sand Bar – Seasonal Poolside Dining & Bar

Sit beach side and sip cocktails while you listen to the sounds of live music. Choose from the light fare menu as you soak up the sun and island atmosphere.
Hours of Operation:
The Sand Bar is currently closed for the season.